Liguria is known for the famous pesto but this land is rich with olive groves and vineyards also produce excellent olive oil and extra virgin olive oil quality wines such as Vermentino, Ormeasco, Rossese Dolceacqua. The Ligurian recipes include meat and fish of course. For food lovers: try the "gattafin" special fried ravioli with herbs, all washed down with fine wines from the Cinque Terre, or soup and ciuppin buridda with cod or steamed or fried sardines. The meat in the Ligurian cuisine is the specialty that top genovese (veal stew served cold), or try the famous hare stewed with olives, pine nuts and rosemary. For dessert: torta Pasqualina is a typical pie made of pastry, vegetables, cheese and eggs.Do not forget the Fugassa, a soft bun and covered with thick slices of onion and olive oil, or the thin gruel, a pancake made of chickpea flour. The sweet taste tradizioniali Liguria: Genoa pandolce, macaroons and small butter cookies called cubel.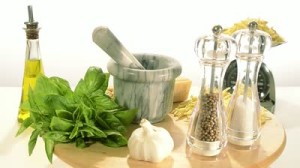 Recipe Pesto alla Genovese
ingredients
2 cloves garlic Coarse sea salt 1 pinch Extra virgin olive oil 100ml 50 grams of basil leaves Grated pecorino cheese 2 tablespoons (about 30 grams ) Pine nuts 1 tablespoon (about 15 grams) Grated Parmesan cheese 6 tablespoons (about 70 grams )
Preparation To prepare the pesto sauce should be first noted that the basil leaves are not washed, but clean with a soft cloth. Start preparing the pesto by placing the peeled garlic in mortaioassieme in a few grains of salt. Begin to crush the garlic and when it will be reduced cream , add the basil leaves together with a pinch of salt, crushed basil against the sides of the mortar pestle turning , keep it up until the basil leaves will not come out a bright green liquid at this point , add the pine nuts and cheese , and start pounding in cream to reduce , adding to last the extra virgin olive oil .